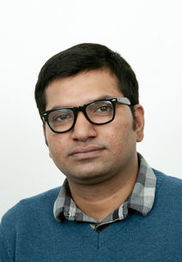 Arbeitsschwerpunkte
Seine Forschungsinteressen umfassen: die indischen Fürstenstaaten, Urdu-Studien, regionale öffentliche Kulturen sowie die Geistesgeschichte von Minderheiten in Indien und Deutschland.
Dr. Razak Khan ist Postdoktorand in der Forschungsgruppe "Moderne Indische Geschichte" am CeMIS, die von Prof. Ravi Ahuja geleitet wird. Razak Khan studierte moderne indische Geschichte an der Universität Delhi und wurde im Jahr 2014 er an der Berlin Graduate School of Muslim Cultures and Societies (BGSMCS) and der Freien Universität Berlin promoviert. Anschließend forschte er als Postdoktorand am Zentrum für die Geschichte der Gefühle am Max-Planck-Institut für Bildungsforschung in Berlin sowie am Erlangen Centre for Islam and Law in Europe (EZIRE) an der Friedrich–Alexander University Erlangen–Nürnberg. Seine Forschungsinteressen umfassen die Princely States im kolonialen Indien, Urban Studies, Kulturgeschichte und Archive des Urdu, Geschichte der Gefühle, vergleichende deutsch-indische Geschichte und globale Geistesgeschichte. Sein Habilitationsprojekt trägt den Titel "Politics of Education, Islam and National Integration in the Life and Writings of Syed Abid Husain (1896-1978)" und untersucht die verflochtene Geschichte des muslimischen und deutsch-jüdischen Intellektualismus. Sein erstes Buch "Minority Pasts: Locality, Emotions and Belonging in Rampur" wird 2021 bei Oxford University Press erscheinen.
Publications Dr. Razak Khan
"Place of Knowledge: Education and Urban History in Rampur." Max Weber Stiftung India Branch Office and GHI London Education and the Urban in India | Working Paper Series 2021/8.
"Minor Cosmopolitanisms: Institutions, Intellectuals and Ideas between India and
Germany." Comparative Studies in South Asia, Africa, and the Middle East, (2020) 40 (2): 291–294.
"Entanglements of Translation: Psychology, Pedagogy and Youth Reform in German and
Urdu." Comparative Studies in South Asia, Africa, and the Middle East (2020) 40 (2): 295–308.
"Iqbal, German Orientalism and Making of Modern Mysticism." Schirin Amir-Moazami eds.
Orientalism at 50. TRAFO, Series, Berlin. 3 August 2020.
"Knowledge in Transit: Global Encounters and Transformation in Magnus Hirschfeld´s Travelogue." History of Knowledge Blog, 6 November 2019.
"A Festival Extraordinaire: An Indo-Islamic Poem." Poetry in the Indo-Islamic Millennium Blog Post, 24 February 2019.
Co-Authored Book Chapter. "Travelers: Transformative Journeys and Emotional Contacts". In
Benno Gammerl, Philipp Nielsen, and Margit Pernau eds. Encounters with Emotions: Negotiating Cultural Differences since Early Modernity. Berghahn Books, July 2019.
"Entangled Institutional and Affective Archives of South Asian Muslim Students in Germany." MIDA Online Post, 2019.
"Entangled Ideas: K. M Ashraf and New Indology in the German Democratic Republic." MIDA Online Post, 2018.
"Princely Architectural Cosmopolitanism and Urbanity in Rampur." Global Urban History Blog, 5
August, 2017.
"Poetic Sovereignty" Biblio: A Review of Books, Oct-Dec, 2017.
"Rethinking "National Culture" of India: An Entangled Indo-German Intellectual History." TRAFO - Blog for Transregional Research, 16.01.2017.
"The Social Production of Space and Emotions in South Asia." Journal of Economic and Social
History of the Orient, Volume 58, Issue 5, 2015, 611-633.
"Local Pasts: Space, Emotions and Identities in Vernacular Histories of Princely Rampur." Journal of the Economic and Social History of the Orient, Volume 58, Issue 5, 2015. 693-731.
"The Case of Falling Walls: Politics of Demolition and Preservation in Rampur," Economic and
Political Weekly, Vol - XLIX No. 12, March 22, 2014, Web exclusive. Republished in EPW, Vol. 49, Issue No.20, May 17, 2014, 25-28.
"Recovering Minority Pasts: New Writings on Muslims in South Asia," South Asia Chronicle, 2, 2012, 375-397.
"Rethinking Muslim Politics: The Rampuri Experience," Economic and Political Weekly, Vol. 44, No. 25, 20 June 2009, 16-18.